Nebraska's most famed filmmaker is back, after a six-year absence from the big screen following his career's most high-profile flop. In the meantime, Alexander Payne has had a child, gotten a divorce, had several projects unravel and watched a labor strike affect the promotion of his new film.
"The Holdovers," starring Paul Giamatti, has itself been held over, now scheduled for release as a 2023 holiday movie, though Payne had it ready at the end of 2022.
But the new Payne movie, which follows three boarding school misfits – the holdovers in the title – unable to go home for Christmas break, is also generating some serious buzz.
The movie's distribution rights have been bought for $30 million – more than it cost to make the movie. The film has premiered to critical acclaim at the prestigious London, Telluride and Toronto film festivals. And now, after "The Holdovers" was held over, it will enter American movie theaters just before Thanksgiving.
The consensus reviewers' take: The intimate film may stand out from bigger-budget, star-studded fare with its themes of regret, redemption, loss and love among mismatched characters who become an improvised family.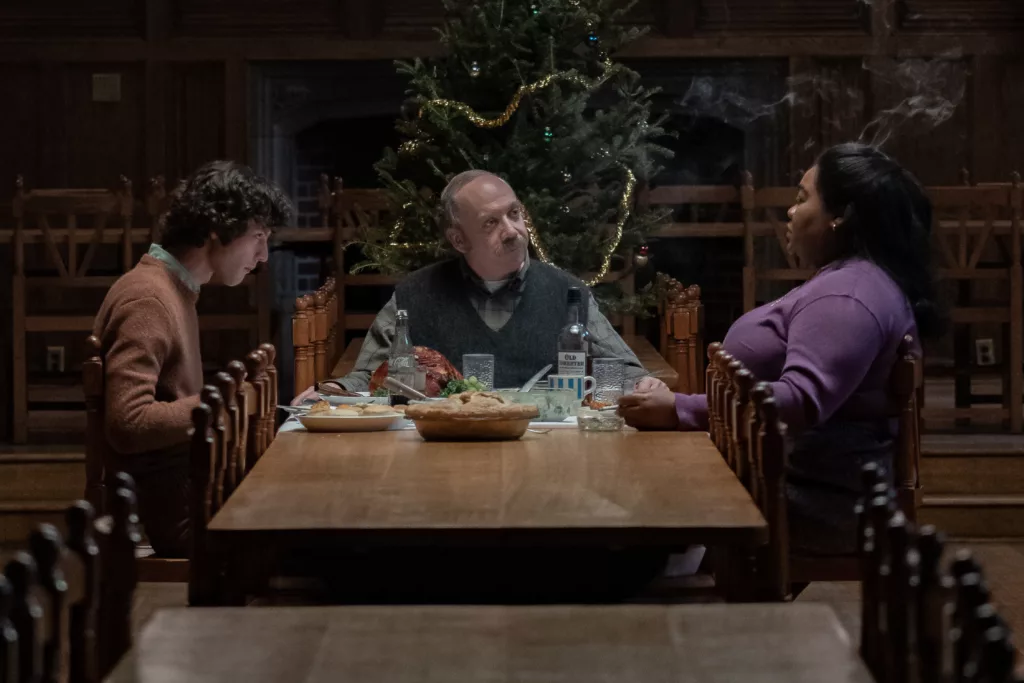 If the film fares as well with general audiences as Focus Features hopes it does, then that success may make a distant memory of the box-office struggles of Payne and Matt Damon's "Downsizing."
"Of course. I was disappointed 'Downsizing' tanked and it has taken some fits and starts to get to having finished a new movie," Payne said during a recent interview. "But every experience of making a movie is different, and after 'Downsizing' I never thought, 'I have to make a good movie now,' but rather, simply, 'What's next?'"
"Making movies is so hard that, in a way, every movie is a comeback."
The film releases nationally Nov. 10. It starts earlier in Payne's hometown, showing first on Oct. 29 at Alamo Drafthouse and then showing at Film Streams Dundee Theater beginning Nov. 2. A formal premiere comes in Omaha Nov. 11, with a post-screening question-and-answer session featuring Payne and Washington Post film critic Ann Hornaday.
For most of his career, Payne had no need for a comeback. His first six feature films all received critical acclaim. Three of them – "About Schmidt," "Sideways" and "The Descendants" – also were hits at the box office.
Payne and longtime collaborator Jim Taylor won two Oscars in the Best Adapted Screenplay category. And, as a director, Payne ascended into a rarefied world, alongside directors like Quentin Tarantino, Sam Mendes and Christopher Nolan, where he could get showcase spots at prestigious film festivals after signing up stars like Jack Nicholson and George Clooney to make the movies he wanted to make.
Then, a few things changed around the release of "Downsizing." First, the movie – Payne's first foray into science fiction and serious special effects – cost $68 million to make, including promotion and distribution, but then grossed only $55 million, according to Box Office Mojo.
(Correction: A previous version of this story included an incorrect cost estimate for "Downsizing." It's been corrected.)
Payne's own life entered public view. An actress publicly accused him of sexual misconduct, three decades prior, when she was underage. Payne disputed her version of events in a lengthy written response. No similar allegations have since surfaced.
His marriage to Maria Kontos, the mother of Payne's now 6-year-old child, recently ended in divorce.
And, while Payne fought to make his next movie, the very nature of the big screen continued to change. The market for theatrically released indie films and so-called "prestige pictures" has dried up in the wake of streaming and the pandemic, said noted film scholar Thomas Schatz, recently retired chair of the Department of Radio-Television-Film at the University of Texas at Austin.
The studios hope the success of Nolan's "Oppenheimer" may signal a revival of the prestige picture at theaters The next litmus test is Martin Scorsese's "Killers of the Flower Moon." What the mass return of audiences may mean to a picture like "The Holdovers" remains to be seen.
Payne "sure could use a critical success, but I don't expect an unequivocal commercial success," said Schatz, citing the changing movie market. He speculates Payne may end up migrating to Netflix, Amazon Prime or other streaming services to make movies similar to the Hollywood movies he's made in the past.
Payne says "The Holdovers," his small, relationships-based film shot in the Boston area during the winter in early 2022, "feels like a return to form for me."
On the set and in the editing room, his longtime editor Kevin Tent described Payne as a man on a mission. "He was good and hungry to dig in and direct. He was very happy to be back in the director's chair and I was very happy to be back working with him. He was razor sharp."
As an antidote to the bloated scope and budget of "Downsizing," "The Holdovers" marks a return to the personal "Indiewood" filmmaking Payne's identified with.
"It was nice to have a small crew and just a good old fashioned filming MO," Payne said. "Not that 'Downsizing' was a bad experience, it was a great experience. But I did discover I don't enjoy doing visual effects."
Schatz said the new project befits Payne's "obstinate insistence" to make the films he wants to make.
"My very strong impression is that his track record and reputation still give him considerable leverage," Schatz said.
A major snag in the campaign came with the Screen Actors Guild-American Federation of Television and Radio Artists strike. It prevented Giamatti and other actors from promoting their films.
For Giamatti, who's winning the best reviews of his career, it deflated a triumphant moment, as he couldn't join Payne at celebratory opening night receptions and press conferences.
The delicate story is set in 1970 at an elite, lily-white prep boarding school, where acerbic teacher Paul Hunham, played by Giamatti, and slacker but brilliant student Angus Tully (newcomer Dominic Sessa) get held over at Christmas with the school's tell-it-like-it-is Black cook, Mary Lamb, played by Da'Vine Joy Randolph.
Hunham is a loner who carries a secret. Tully feels the sting of being ditched by his mother and stepdad. Lamb mourns the loss of her son in Vietnam, resentful he was drafted while white classmates got a free pass. Over the holiday, the damaged trio form an impromptu family.
"You know me," Payne said, "I like to do stories about people who find ways to love one another when it's difficult."
Reuniting with Giamatti, the unconventional leading man who starred in Payne's classic "Sideways," was a real joy, the director said.
That history allowed Payne to direct Giamatti instinctually, the director said, sometimes offering him suggestions just by giving him a look. "I had been dying to work with him again since 'Sideways,' and finally created the right vehicle for him," Payne said.
"He's just the finest actor. He can just sort of do or embody anything. He's also a brilliant human, very well read. His brilliance is expressed through his acting and this just felt like a very good part for him."
For only the second time, Payne directed a feature written by someone other than himself and Taylor. The idea for the story originated with Payne, inspired by the obscure 1930s French film "Merlusse." He then entrusted veteran television producer-writer David Hemingson ("Whiskey Cavalier," "Kitchen Confidential") to write the screenplay about these thrown-together holdovers.
Hemingson would give Payne two or three different directions the story could do. Writer and director would discuss. When Hemingson gave Payne the full draft, Payne went through with "a fine-tooth comb," making suggestions while also feeling good that Hemingson had agreed to write the script.
"Thank God he did because I'm so happy with his work," Payne said. "After an early draft I could see we had a similar sense of what's dramatic, funny, human, and what makes a good movie."
"Jim (Taylor) and I have always had that criterion that you never want anything to happen in a movie that couldn't also happen in real life. We're very allergic to artifice and concocted things."
For the part of Lamb, the cook, Payne auditioned many big names. He then picked the lesser-known Da'Vine, who he noticed and loved as Eddie Murphy's sidekick in "Dolemite Is My Name." Payne has previously taken heat for having few people of color in speaking parts. He said Lamb's character was conceived organically by Hemingson from his own prep school experiences.
Finding the right Tully – the slacker student character – took Payne down an unconventional path, though one he's taken before.
He didn't like any of the 800 submissions he got for the part, so he decided to audition for the role in the schools where they were shooting the movie.
That's how they found Sessa, a senior at Deerfield Academy, who "had never been in front of a camera," Payne said. What he needed from Sessa was "mostly just to be believable as a troubled, 17-year-old kid."
"He just took to it like a duck to water," Payne said.
The experience reminded Payne of casting nonprofessionals in "Election" who often won parts because they felt real to the director.
Two of those Omaha amateurs, Chris Klein and Nicholas D'Agosto, went onto nice acting careers after starring in "Election." Payne thinks even bigger things may be ahead for Sessa, now a scholarship drama major at Carnegie Mellon. "He's Hollywood and Broadway-bound," Payne said. "This definitely is the biggest discovery of my career."
After shooting ended in Massachusetts, Payne and editor Tent – the only editor to work on Payne's feature films – traveled to Omaha and holed up in Payne's downtown condo for weeks at a time.
They completed the final cut, plus sound mixing and, yes, even special effects, while in Los Angeles.
The end result is a homage to character-based 1970s American films that Payne adores. And it's more than an homage – most of the camera equipment used in "The Holdovers" was in use during the '70s. The film's sound was also mixed in mono – sans stereo – just like the movies of that era.
"A trick I'm trying to pull off with this movie is not only that it is set in 1970 but pretty much looks and sounds like a film actually made then," Payne said. "Not just to have the social-cultural-political mores and winds of the time as the raw material flowing through the film but also in a larger sense to time travel and pretend we made a '70s film," he said."
In coming as close as possible to realizing his dream of being a New Hollywood '70s filmmaker, Payne's a holdover himself. And one who, if the reviews prove true, may have gifted movie lovers with a new Christmas flick to enjoy for seasons to come.