The first thing a person notices when spending time with chef David Utterback is that he's constantly in motion.
He rearranges the bottles behind the counter at his new six-seat, high-end sushi counter, Ota, which sits next to his wildly popular Omaha sushi restaurant, Yoshitomo. He stacks and re-stacks boxes of ingredients. He paces. He tears open and sifts several bags of flour that he's planning to use for a new dish, his version of tempura, something he's hoping to add to the chefs tasting menu he's become known for.
The movement is the same when he's preparing for a night of service or running the sushi counter at Yoshitomo. And it's appropriate, because Utterback's career as a chef has also been one of constant movement – building his knowledge of the best sushi, mastering it, then breaking those rules and starting all over again.
Not so long ago, Utterback was a corporate chef, near the top of one of Omaha's largest restaurant groups. Now, he runs Yoshi, a decidedly non-corporate spot with a menu unlike any other in Nebraska.
He was one of the first chefs to introduce omakase, a chef-driven, multi-course sushi tasting, to the state. He's the first person in Nebraska to open a restaurant, Koji, focused on Japanese yakitori, grilled meat served on skewers. Now, with Ota, he's running arguably the most exclusive dining spot in the state – and one of the toughest reservations.
And this spring, Dave Utterback, a one-time video game salesman, earned another first: He became Nebraska's first-ever James Beard finalist for best chef in the Midwest.
The James Beard winners – the food world's equivalent to the Oscars – will be announced June 5. Utterback will be buying his first real suit and getting on a plane to Chicago to be at the awards in person to see if he won.
His process to get here, a journey that included a pink slip resulting from his own creativity and a risky bet on his own talent, has twisted and turned for more than a decade. He's taking diners along for the ride.
"Getting rid of the familiar trappings of a sushi bar, like we did at Yoshitomo, forced guests into an uncomfortable place," he said. "I rolled the dice, and I bet that we were too midwestern nice to get up and leave."
The gamble worked.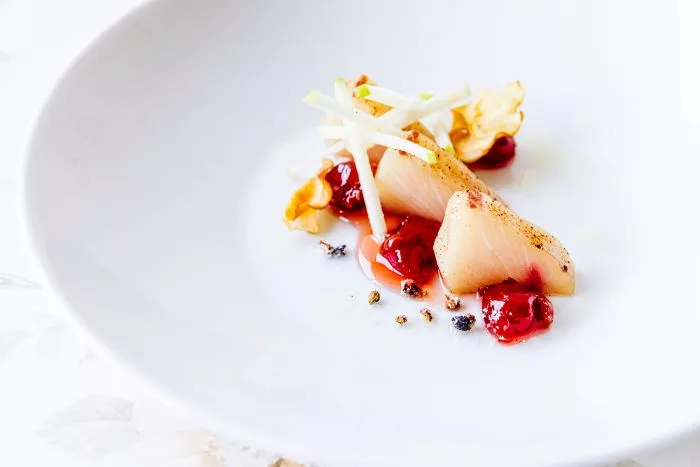 In some way, Utterback has been planning his restaurant triumvirate since his first trip to Japan in 2009. He landed in Tokyo, went to his hotel and Googled "best sushi in Tokyo." He ended up seated at Jiro Ono's counter. Yes, that Jiro, the now-famed chef featured in "Jiro Dreams of Sushi."
"It was the first time I had ever encountered professionals," he said. "Where I came from, everyone played pranks and watched the clock, waiting to get off."
During the dinner — it was $300, and he was the sole diner — Utterback said he told Jiro and his son that he was a "sushi chef."
"The father and son looked at each other, looked at me, and then there was a moment of silence," he said. "And then they laughed in unison, at me. I am still embarrassed by it."
After that experience, things changed. Utterback changed.
"I didn't know that sushi like that existed," he said.
He left a letter with the family at the sushi bar, asking for a chance to stage (the chef equivalent of an internship) there sometime in the future. In the meantime, he returned to Nebraska, got married, bought a house, got promoted to chef at Blue Sushi Sake Grill, part of the Omaha-based Flagship Restaurant Group, and adopted a cat.
Jiro's son, Takashi, sent Utterback an email response to the letter he'd left behind: yes, he could come work at the restaurant. But he had to come for 10 years, standard training time for a Japanese sushi chef.
"I would have had to, like, sell my house," Utterback said.
He wrote back: Could he instead work for a shorter time?
The reply: We will make an exception for you. Three years.
Utterback didn't do it. But he made a decision then and there: he was going to have his own omakase.
He set up a corner of a counter at Blue in Omaha's Old Market, with four seats, and he sent out some emails to let people know they could walk in.
Two people showed up: Utterback's friend and tattoo artist, Devin Ferguson, and his wife, Sarah Ferguson.
"We got there at 9 p.m. on Sunday," Ferguson remembers, "and Dave said 'Thank God! I have been here for 72 hours doing nothing'."
Ferguson remembers it differently than Utterback: "It was amazing," Ferguson said.
"I know that from his perspective he shakes his head with embarrassment, but I became an instant superfan."
Ferguson remembers the experience of having a chef's total attention, something he'd never felt. Utterback had already begun building his knowledge base of where all the ingredients came from and what made them special.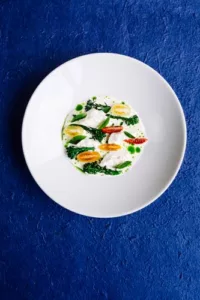 "I could think of 20 more people in Omaha who were going to want to have this experience," Ferguson said.
Utterback kept running those dinners at Blue, even as he ascended to corporate sushi chef.
Then he started running a steady side gig of pop-up omakase dinners at restaurants his friends ran: Le Bouillon; Au Courant; Hook and Lime; the now-closed Ugly Duck Ramen.
Then Blue let him go, after 12 years. The reason? Too much time spent on pop-up dinners and thinking about a future outside of the company, he said.
"I was … hurt and terrified," he said. "Looking back it was the right business decision at the time. I wanted to go left and the ship was headed to the right." (For the record, Utterback said he's "still quite friendly" with the owners of Flagship.)
He kept his pop-up dinners going, first quarterly, then monthly, because they were now his sole source of income. And because he knew he needed to get better.
"Even through all of those dinners, I knew that the fish and the techniques, they were just not there," he said.
He had a realization during that period: He didn't want to work for someone else. He wrote a business plan, and started shopping it around.
"No one bit on it, until my buddy, who is also the guitar player in my band, put his parents' house up against a small bank loan," Utterback said. "Then I found the closed Subway in Benson."
The shuttered sandwich shop was a mess, he said. "The basement was flooded. Wires were hanging from the ceiling. They had just left all the Subway sauces in the walk-in cooler and turned it off."
That night, Utterback said he signed up for five zero-percent interest credit cards.
"We would just have to figure it out from there," he said, "it had to work or I literally would be homeless."
Yoshitomo opened its doors in October 2017. Utterback didn't have a sign, a staff or an inch of wiggle room.
"At any given time I'd have a couple hundred dollars in the bank account," he said. "It was really scary."
Guests came in with an idea of what a sushi restaurant is, because most American sushi restaurants do things the same way.
"We have ritualistic eating habits," he said. "You know, rubbing chopsticks together, wasabi in the soy sauce, miso soup. I just, I hated that. I wanted to be the opposite of that."
The first big step: He took the bottles of soy sauce off the tables. The second: He took away the pickled ginger and balls of wasabi, too.
"We thought people were going to be so mad, but we didn't want them using wasabi and soy on every bite. So we did it."
Nothing happened.
They got rid of the traditional, well known sushi rolls and replaced them with rolls Utterback created. It forced diners to ask questions, change their expectations, become adventurous.
All that time, Utterback was scouring Instagram, looking at other sushi counters and glimpsing the products they used. He started ordering from some of the higher-end producers he found online or learned of through other sushi chefs.
Now, after building stronger relationships, he's using one of the world's most renowned fish brokers.
"It's come from lots of long, drawn out intense investigative work," he said. "No one taught me. As I started doing my own omakase, and learning how to do actual Tokyo style sushi techniques, those translated into the restaurant."
His omakase dinners, once sparsely attended, started to get more popular in a floral wallpapered, tiny side room at Yoshitomo.
Then he took those omakase dinners on the road to St. Louis and Kansas City, where he met chef Nick Goellner, who runs The Antler Room. Goellner recently hosted a pop-up izakaya night with Utterback in Kansas City. The event sold out immediately. Goellner also traveled to Omaha specifically to eat at one of Utterback's omakase nights.
The Kansas City chef says it's hard to source ingredients, like some vegetables, in the Midwest. He can't imagine what it's like to source the main ingredients in sushi.
"The main product he's using is seafood … that can go bad very fast and needs to be treated very delicately," Goellner said. "To open a place like that with the quality of ingredients he uses is a big gamble."
During an interview as the Beard Awards neared, Utterback said he's supposed to be working on some new dishes for Yoshitomo. But instead, he can't stop thinking about the tempura he wanted to make for the omakase menu. He worries aloud about skyrocketing fish costs that have forced him to raise his prices. He's been spending a lot of time, he says, thinking about "Yoshi 2.0."
Yes, Dave Utterback is thinking about breaking the restaurant that helped him become a James Beard finalist.
"I get bored very easily. And once I get bored of it, I think that everyone else is, too. So I need to break it," he said.
The newest idea? No more sushi rolls, at all, on the Yoshitomo menu. It hasn't happened yet, but he's thinking about it.
Goellner said what makes Yoshitomo great is that every time a diner visits, it's consistent, and Utterback never seems to get caught up in his own environment.
Often – too often, Goellner thinks – chefs say they can't do something creative, something singular, in a city like Omaha. Utterback doesn't think that, Goellner said. Instead, he thinks: How do I make an awesome sushi restaurant?
"To be able to forget all the noise about who lives where and how hard it is to get this or that, that takes a lot of guts," Goellner said. "That is what makes it spectacular."
---
The Flatwater Free Press is Nebraska's first independent, nonprofit newsroom focused on investigations and feature stories that matter.